Previous Announcements
2020-10-01 New Magnetic Ephemeris (MagEphem) files: V3.0.0
The ECT SOC team has finished reprocessing all the MagEphem files: 4 field models, 2 satellites, 7 years (Thanks Brian Larsen!) The TS04 files in particular took months to reprocess. The newly-reprocessed files all use the as-flown satellite ephemeris and fix a couple of bugs that were identified (mostly after the de-orbit maneuvers). You can recognize the new files by the version number V3.
2019-05-07 - Bad MLT values at the 24 to 0 MLT transition
The ECT SOC wants to make people aware of a problem in MLT variable in the ECT data files. The ECT data have now been reprocessed to fix this problem but it is highly likely that the data for other instruments are also affected.
The problem occurs at the boundary between 24 and 0 MLT. The magnetic ephemeris (MagEphem) files that are produced by the ECT SOC have 5 minute time resolution. Higher time resolution values (e.g. 1-spin ~ 12 sec.) are obtained by interpolating the 5-minute values. Interopolating between 24 and 0 MLT gives values that are in range but are incorrect. The bad MLT values only affect a few data points each day (~25 of 7,200) so they generally do not affect the results of statistical studies that e.g. bin data in L and MLT.
2018-11-20 - Give thanks for new HOPE
Just in time for Thanksgiving (and AGU) there is a new release of HOPE data available on the RBSP-ECT web site. This is Release 04 of the HOPE data and should be used for all future and ongoing studies. New files have "rel04" in the file name and are available on either the LANL or NMC data servers.
HOPE was designed to minimize any impacts from penetrating radiation from protons, electrons or cosmic rays. As part of that design we devote part of the telemetry to counting singles rates for electrons and ions that produce start and stop pulses with valid time of flight ranges for each energy step. This capability also allows us to determine absolute detection efficiency of the the channel electron multipliers which vary somewhat over time.
Alex Boyd has led an effort to improve the algorithm used to apply the correct detection efficiencies in the conversion from counts to fluxes and qualitatively assess the cross-calibration against the RBSPICE ion fluxes and MagEIS electron fluxes. (The same CEM efficiency applies to all species.) Additionally release 3 (rel03) contained a bug in which some of the more recent data did not have the proper detection efficiencies applied.
A comparison of HOPE fluxes with RBSPICE and MagEIS are included in the attached pdf files. The left hand panels show the distribution of simultaneously measured fluxes. The right hand panels show the normalized percentage in each flux bin (i.e. the values in each column add up to 100%). You'll see that the agreements are quite good. For example for protons on RBSP-A the mean and median ratios of the HOPE and RBSPICE fluxes are a factor of 1.5, 87% of the data points agree to within a factor of 2, and the quartiles are evenly distributed around the means (i.e. no skew). For electrons on RBSP A 94% of all data agree to within a factor of 2.
For RBSP-A there is a known problem with the RBSPICE data in the heart of the belts just before the instrument turns off. This creates a population of low RBSPICE fluxes below the main distribution. These points are rare (they are part of the 13% outside 2x) and they are easily recognized when they occur.
Many thanks to Alex and to the HOPE, RBSPICE, and MagEIS teams (especially Brian, Jerry, and Seth) who have helped make major improvements to HOPE rel04.
cheers
Geoff & Harlan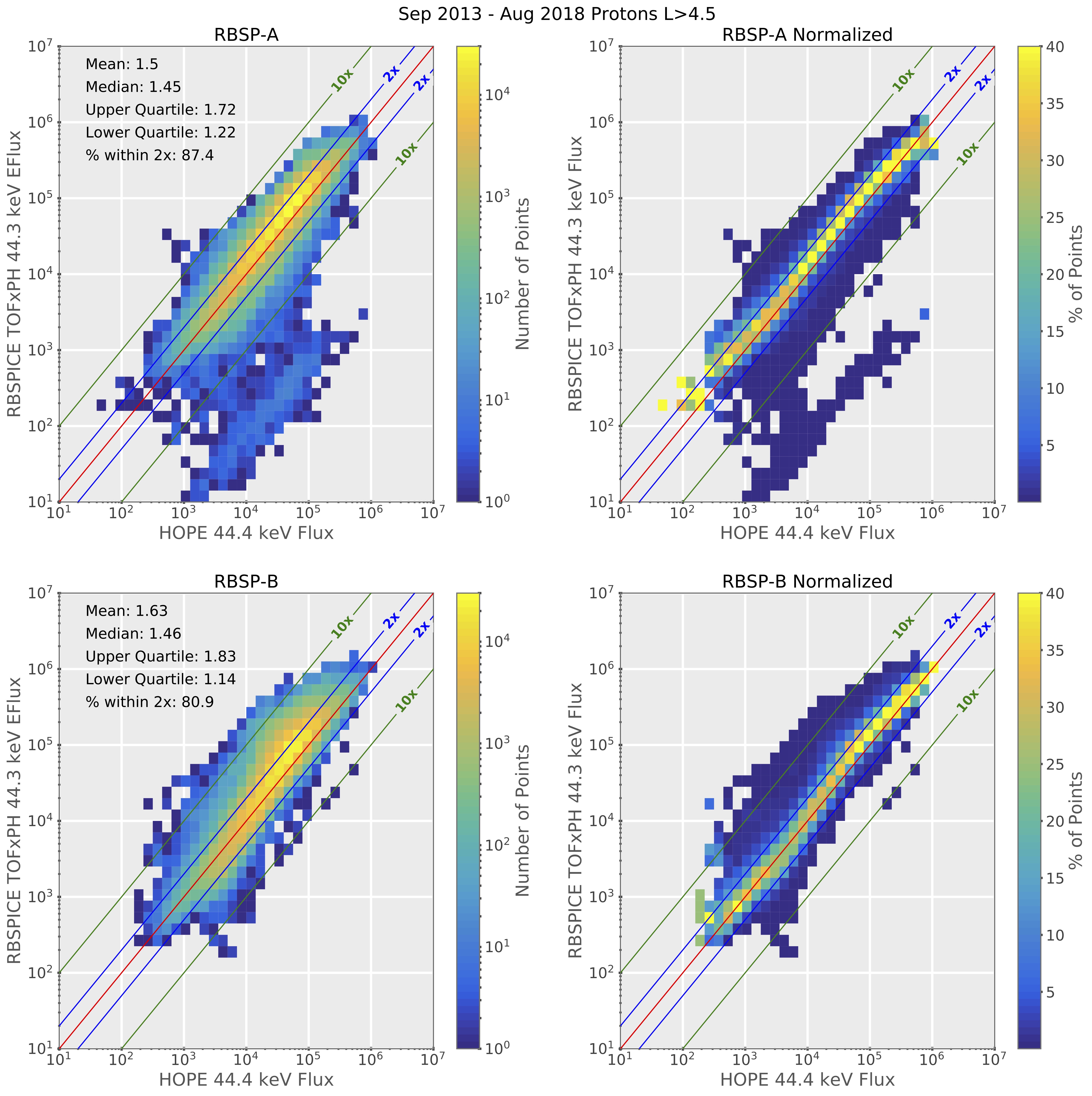 2018-08-16
The RBSP-ECT science team mourns the passing of Aretha Franklin whose least amazing feat was to inspire the name of our team.
Aretha Franklin
1942-2018

2018-05-25 New Release of MagEIS data (data release 4)
We are pleased to announce release 4 (rel04) of the Van Allen Probes ECT/MagEIS data. This new release includes a number of minor bug fixes and changes to the data files and their contents, along with a few major changes.
Of particular note is that the electron and proton energy channels are no longer time varying in a given daily CDF file; this important improvement and simplification to the data product means that you may have to modify your data analysis and processing routines.

Please see the MagEIS-related documentation for more details:
Older Announcements
2017 August-September Data Loss on MagEIS LOW Spacecraft A
On 2017/08/21, MagEIS LOW-A (20-210 keV) suffered an anomaly that prevented proper commanding of the unit. The anomaly was believed to be due to a single-event upset (SEU) that was ultimately cleared by rebooting the instrument. The impact of the anomaly on the commanding resulted in a full loss of the science mode data from 2017/09/05 through 2017/09/25. There is intermittent (but sparse) science mode data from 2017/08/21 through 2017/09/04.
2017-06-08 - New Mirror Site
Over the past year the RBSP-ECT data processing has been migrated from LANL to the New Mexico Consortium (NMC) which is a university-owned research institute affiliated with LANL. You should be able to find identical content - both web content and data directories - at either site. So, now, if one site is down for some reason you should still be able to access data on the other site.
You can access the RBSP-ECT web pages at:
https://rbsp-ect.lanl.gov/
or
https://rbsp-ect.newmexicoconsortium.org/
and the digital data directories can be found at:
https://rbsp-ect.lanl.gov/data_pub/
or
https://rbsp-ect.newmexicoconsortium.org/data_pub/

There are some changes in directory structure too

As the data volume and types of data products have grown we've needed to change some of the directory structures. For example, HOPE level 2 (spin-averaged and sector-resolved fluxes) can still be accessed at, https://rbsp-ect.lanl.gov/data_pub/rbspa/hope/level2/ but within that directory there are now separate directories for spin-averaged fluxes and for sector-resolved fluxes. This new structure will be particularly helpful as we develop new data products for the extended mission such as energy flux, new moments, PSD, etc.
Within the directory for each data product there are now directories for each year. E.g. https://rbsp-ect.lanl.gov/data_pub/rbspa/hope/level2/spinaverage/2016/
If you use Autoplot to acces the ECT data you will need to change your bookmarks and .vap files. The help pages at autoplot.org have a discussion of wildcards that should be helpful for that.
2016-12-08 - LANL-GPS Data
Los Alamos Space Weather Historical Archive Availability
Los Alamos National Laboratory has built and operated space environment particle detectors since the dawn of the space age. For that same amount of time there have been conflicting or ambiguous guidelines and regulations covering the public release of those data. On October 13 President Obama removed any lingering ambiguity by executive order.
As a result the Space Sciences group at Los Alamos has been preparing historical data sets from our sensors in geosynchronous and GPS orbits. LANL-GEO data has not been widely available since 2008 and LANL-GPS has never been available in bulk. The current generation of LANL-GEO sensors (MPA, SOPA, and ESP) date back to 1989 and are currently returning observations from 6 satellites simultaneously. The current generation of LANL-GPS sensors (CXD) date back to 2001 and are currently returning observations from over a dozen satellites distributed through the GPS constellation.
The full historical data sets will soon be hosted by NOAA and searchable on data.gov.
As a first step toward the broader data release we have also made LANL-GEO data and summary plots available for the Van Allen Probes era (2012-present). Those data are currently available here on the RBSP-ECT web site. We have also made summary plots of the LANL-GEO SOPA and Van Allen Probes MagEIS data for electrons ~50-600 keV. Those plots are particularly well suited for studies of energetic particles during storms and substorms. Additional products are under development.
We are extremely happy to make these data more broadly available and we will be equally happy to answer any questions about data quality, caveats, or scientific analysis.
2016-10-01 - updates
I have replaced all the absolute links to http://rbsp-ect.lanl.gov/ with relative links. This particularly affects the Data Directories page and is a necessary step as we develop a new mirror/backup site for the RBSP-ECT data. If you encounter any anomalous behavior please let us know.
2016-09-01 - restored service
I'm happy to report that the RBSP-ECT web pages are back in service.
As I've reported before, LANL changed the web servers recently which has been very inconvenient all around. Two problems emerged
1) the navigation menus all disappeared and
2) many people encountered security certificate errors.
Problem 1 stemmed from an obscure change in which type of "include" protocols were supported. That is fixed.
Problem 2 is not "fixed" but can be avoided.
solution 1: If you get a message about certificate authority when you connect to the ECT web pages you can tell your browser to always trust the certificate. Different browsers do this in different ways. See
https://support.apple.com/kb/PH18677?locale=en_US
https://support.mozilla.org/en-US/kb/connection-untrusted-error-message
or google "always trust certificate"

solution 2: change your bookmarks from https://www.rbsp-ect.lanl.gov/ to https://rbsp-ect.lanl.gov/
This works well for links on web pages but if you type it directly in the navigation bar many browsers automatically add the "www" to the front of the URL. That's a browser problem, not a web server problem so we can't fix that.
NOTE: Autoplot users should change to https://rbsp-ect.lanl.gov/ (without the www). Autoplot has no way to apply the "trust certificate" option.

Finally: While I was fixing the web pages I vastly streamlined the whole site. There are fewer pages and fewer links to external sites. If there are pages or links that you really miss let me know and I can add them back.
thanks
Geoff
2015-12-04:
Three updates
1) Publications have been updated through November 2015
2) There are new notes for MagEIS Release 3 (REL03) data on the Data Quality and Caveats pages
3) Updated MagEIS energy channel definition files are available
2015-09-14: Team Meeting, Los Angeles California

2013-12-03: Release 02 data now available
The most significant change in this data release is that Level 3 (pitch angle resolved) files are now available for all ECT instruments.
Level 2 files have also been reprocessed and have been released with the "rel02" label. Any routines that read the previous "rel01" files should be changed to read "rel02". If you are starting new studies or still in the process of analyzing data we strongly urge you to use the Release 02 versions.
Release 02 data are not perfect or final. There are still many known issues that we are working on that could affect studies you want to do so, as always, we urge you to contact Harlan, Geoff, and/or the instrument leads regarding data "issues" that could affect your results.
We are trying to put this documentation on our new Data Quality and Caveats pages
2013-09-13: Release 01 replaces 'preliminary' Data
Up until now all of our data files and summary plots have been marked as preliminary. This was designated in the summary plot titles and in the data file names. Files had names such as:
rbspa_pre_ect-magies...
The data have not been truly preliminary for quite some time so we are removing that designation and producing an official data release. Files in the data release are designated "rel01" in place of "pre".
Why have releases and versions? Early on the ECT team decided to use the version numbers to help automate processing and reprocessing of the data. That means that a new version number might be generated when some data gaps in an earlier version get filled or if processing software gets changed and there's no way to tell which one happened. We decided to use "Releases" to designate some significant change in the data processing algorithms. To me "significant" means that if there's a new release a week before AGU I'll want to remake my figures.
A single Release will apply to all past and future data until a new release is issued. We will document the changes between data releases. Examples are: HOPE fluxes changing by a factor of 7! This is fixed in Release 01. We hope that Release 02 will have some background subtraction applied (for example). We don't expect to have a new release very often, e.g. months not weeks. Versions can still change though so try to start with the most current release and version.
We hope this is a welcome change. Please don't hesitate to ask questions. And, if you see "preliminary" in any plots or on our web pages please let me know so we can fix it.
2013-07-26
We have started adding talks for the 2013 Fall AGU meeting. If you are submitting an abstract don't forget to send it to Geoff Reeves so we can put it on the list
Thorne, et al., Evolution and slow decay of an unusual isolated ring of relativistic electrons near L~3.2 following the September 2012 magnetic storm, Geophys. Res. Lett., doi:10.1002/grl.50627.
Reeves, et al., Electron Acceleration in the Heart of the Van Allen Radiation Belts, Science, doi:10.1126/science.1237743.
2013-06-12
By popular request we now have L-T plots available. We have selected representative energy channels from both MagEIS and REPT that cover the energy range from 146 keV to 5.6 MeV. There is a plot for the mission to date (currently September through May) and separate plots for each month of the mission. The plots are in high resolution PDF format as well as PNG.
2013-04-18
Conference presentations from 2012 have been moved to a separate page so that the more recent conference papers are easier to find.
If you haven't already noticed, the headings for each conference link to the conference web site. This should make it easy to find future conferences that are relevant to RBSP studies. Let me know if I'm missing any that we might present at.
2013-04-17
The side menu has changed. All links to directories of digital data including links to Qin-Denton and MagEPHEM files have been moved to a dedicated DataDirectories page
I have renamed some of the web pages so direct links to some of the lower level pages may need to be updated. For example, ScienceDataL2 has now been broken into SummaryPlots and DataDirectories
There is a new page containing Information for Science Studies. The Information page also now includes a table of MagEIS energies (pdf).
RBSP-ECT web pages contact Geoff Reeves